Memorial Drive Chiropractic and Massage Orthotics
Lack of proper care, ill-fitting shoes and general foot neglect are responsible for the majority of foot problems.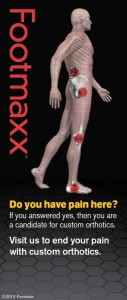 It's important to understand your feet have direct impact on the rest of your body and support you with each step. A small abnormality in foot function can have a large impact on joints higher up in the body, causing pain and discomfort.
When you are running, the pressure on your feet can be three or four times your body weight. Even walking can produce more pressure than the sum of your body weight. The American Podiatric Medical Association says that the average person takes 8,000 to 10,000 steps a day. That adds up to about 160,000 kilometers in a lifetime or more than four times the circumference of the globe. That is a lot of walking with ill-fitting shoes or painful feet!!
In some cases foot ailments can be an early signal of more serious medical problems like arthritis.
Women have four times as many foot problems as men because they have a long history of wearing high heels and/or pointy toe shoes.
Orthotics and proper shoe fit are very important aspects of foot health.
Remember if you are experiencing pain or discomfort in your ankles, knees or hip joints ….the direct cause may be the function of your feet or ill-fitting shoes.
Custom Orthotics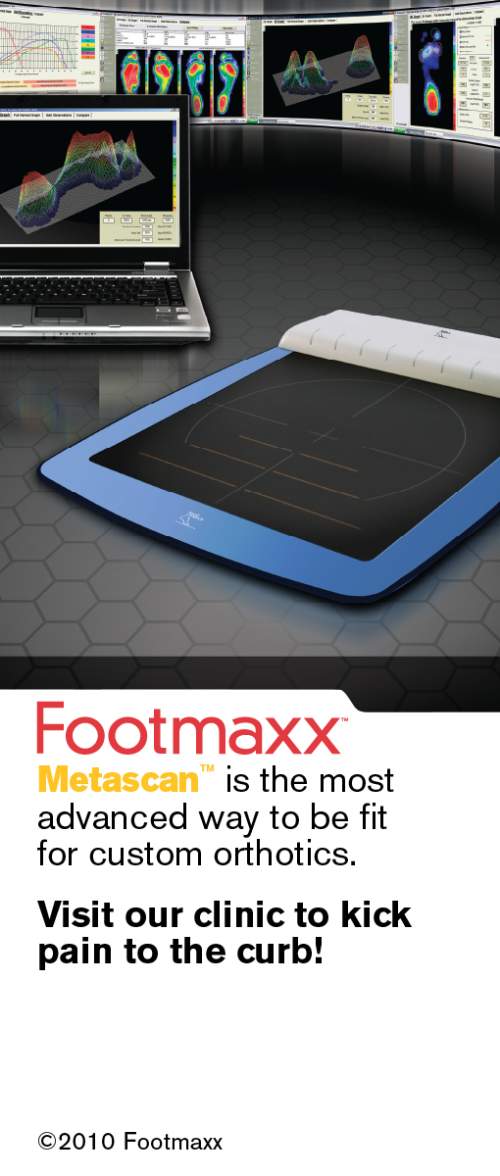 When you think of orthotic therapy, you might think of plaster cast molding. And you would be correct. But orthotic therapy (custom inserts worn in shoes) is in the midst of major technological advancement. Memorial Drive Chiropractic and Massage uses the latest technology when it comes to custom foot orthotics.
Metascan™, a computerized gait and pressure analysis system from Footmaxx, is an innovative diagnostic tool that analyzes foot function when a patient stands, walks or runs across a mat. The result is a computerized gait analysis report that provides a thorough clinical assessment to help the chiropractor, Doctor Wagemakers to prescribe custom orthotics – literally within minutes.
If you are a runner, athlete, or stand on your feet most of the day orthotics will most likely prevent future joint problems, and help remedy some existing problems you may have.For more info contact our office. Gait Scans are a quick way to look at the overall health of your feet. Book your assessment today. It only takes a few minutes.
Frequently Asked Questions
What are orthotics?
Orthotics or 'Orthoses' are inserts that comfortably fit into shoes; they are designed to support and improve the functioning of feet. Health care practitioners will prescribe orthotics to patients suffering from chronic foot or lower limb problems or to athletes to help maximize performance during sport.
How often should I be wearing my orthotics?
Your orthotics should be worn every time you are on your feet — during work, at home and play. Orthotics are like eyeglasses, they work when they are worn. As soon as you take your orthotics out of your shoes or take your shoes off your feet, the stress and discomfort you experienced before wearing your orthotics is likely to return.
What do you recommend if the orthotics are hurting my feet?
During the first few weeks of wearing your orthotics, you may experience aches and pains in your feet and legs. This is normal and is an indication that your orthotics are working. Your body has been conditioned to accommodate feet that do not function properly; as a result, it may need time to adjust. If your discomfort persists beyond a few weeks, please contact your health care practitioner, your orthotics may simply need a minor adjustment.
Does the effectiveness of my orthotics rely on the type of shoes I wear?
Orthotics are most effective in shoes that are constructed well, fit properly and are in good condition. It is best to bring in your shoes when your health care practitioner is fitting you for orthotics. Knowing the type of footwear you wear the most will help your practitioner prescribe the right style of orthotics for your lifestyle. It is quite normal for some practitioners to prescribe two pairs of orthotics to patients (ie. Dress and Sport). When shopping for new shoes, it is also best to bring your orthotics with you for fitting purposes.

Contact Memorial Drive Chiropractic and Massage now to schedule an appointment and begin care today.
---
East Calgary Custom Orthotics, Calgary, Marlborough
Memorial Drive Chiropractic and Massage | (403) 273-0203